Mold Removal Tanque Verde
Mold and mildew can begin growing in your home under a multitude of circumstances, and when your home is affected by any of those issues, our mold removal Tanque Verde professionals of 911 Restoration of Tucson will be there to help.
Our IICRC certified mold removal Tanque Verde are qualified to provide you with comprehensive services, such as:
Water damage restoration

Moisture extraction

Thorough drying techniques

Sanitization

Spore removal

Drywall replacement

Vapor Barriers

Air filters and purifiers

Mold testing

Cleanup services

Vacuuming
Our representatives are available 24/7/365, which makes it easy for you to call us literally any time to schedule an appointment with our mold removal Tanque Verde team.
We treat every mold situation with urgency, so when you reach out to us about a potential fungus infestation, we make sure to get crews out to your home as soon as we can.
Call us when you notice any sign of mold growing in your property and when we arrive we will conduct a free visual mold inspection to get the process started.
Our Professionals Will Always Implement Proper Mold Removal
We never want homeowners to feel like they are expected to clean up mold on their own. Our mold removal Tanque Verde team is qualified to handle any fungus job, no matter how big or small the situation may be.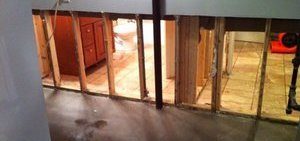 The main reason we are so concerned about working quickly, is because mold has the ability to cause health issues in everyone living in the household with it.
In order to be sure that the mold is not exceptionally harmful like black mold, our mold removal Tanque Verde staff tests the substance growing in the home to determine if it is harmful or benign.
We also use advanced techniques to thoroughly eradicate all traces of fungus by using vapor barriers to stop the spreading of spores throughout the home, sump pumps, eco-friendly cleaning agents, wet vacs and air purifiers.
Call our mold removal Tanque Verde technicians when you need licensed, bonded and insured help and we will go the extra mile to sanitize your home today.
We Always Keep Our Customers Protected Against The Effects of Mold
Customer service is a very important part of the home restoration process, and with so many years of experience in the field, our mold removal Tanque Verde agents know how overwhelming this can be for homeowners.

By providing you with excellent customer service we hope to make this process easy and streamlined for you, and we will stay available around the clock to answer any questions you may have.
Our mold removal Tanque Verde specialists know that paying for the extensive cleanup can be very costly, which is something everyone thinks about as soon as its discovered that fungus is growing in their home.
We want homeowners to know that we will help you afford our services under all circumstances, even if  your homeowner's insurance does not cover mold.
Call our mold removal Tanque Verde pros at 911 Restoration of Tucson today and we will do whatever we can to give you a fresh start.